If you are developing an NSF ATE Grant Proposal, you will need to indicate how you will ensure women will be included in your program, and that can be hard to do in fields with very few women– whether it's drone technology or cybersecurity or manufacturing. This webinar will give you best practice examples and case studies of how STEM Programs successfully broadened the participation of women in two-year colleges. This is a don't miss webinar.
Broadening the participation of women is a priority area for NSF, and schools that did not address this sufficiently in grant proposals have reported to IWITTS that they were told to resubmit and strengthen this area of their proposal. Others have had to address this area in final questions during proposal negotiations. Be proactive and make sure you have adequately addressed this in your NSF ATE grant proposal.
Free Webinar Date: July 26, 2023 Time: 11 am PT / 2 ET (1 hour)
The #1 mistake almost all schools make when developing a plan for broadening the participation of women

The difference between career awareness (which is what most schools do) and actual recruitment for enrollment (which is what they should be doing)


Best practice examples and case studies of what has actually worked to broaden the participation of women in STEM ATE Programs and other two-year colleges in a year or less

How to do a quick 20-minute assessment of what your school should focus on in broadening participation in both the recruitment and retention areas

What your evaluation plan for broadening participation should look like
What tools are available from IWITTS to assist you in developing an effective Recruitment and Retention plan and support you in its implementation, and how much you should budget for this help.


What is required to include IWITTS in your proposal
Please note our policy is grantees must have a Letter of Commitment from IWITTS to include the organization in their proposal. We had a repeated problem with being included in grant proposals without being notified, and we were put in the awkward position of being asked final questions about a program design we had not created and did not feel was effective. This policy was developed to prevent this from happening again. NSF ATE Program staff are aware of our current policy, which is to consider IWITTS in a proposal only when there is a Letter of Commitment.
Save your FREE spot for this hands-on Zoom webinar now!


About Donna Milgram the Presenter:
Donna has Dedicated her Entire Career to Helping Educational Institutions have Actual Increases in Female Enrollment and Retention.
Donna Milgram has been the Principal Investigator of 5 National Science Foundation grants. She has worked intensively with schools—boots on the ground—to develop the strategies and system that help educators enroll up to 25-50% female students in STEM/CTE classes.
Donna's NSF-funded CalWomenTech Project was highlighted by the National Science Foundation for demonstrating significant achievement and program effectiveness and chosen as 1 of 3 model projects by the American Association of University Women (AAUW).
After over 30 years of service in the field, she has "cracked the code" and developed an 8 point system for recruitment and a 12-point system for retention that provides numerical results in about one year—not just the hope of eventual change 5-10 years down the road that nobody can measure.
"Originally, we participated in the WomenTech Educators Bootcamp because we were working towards obtaining a National Science Foundation grant and this had been recommended to our college.
The Bootcamp gave us a solid foundation to start with, we increased female enrollment by 150% from 4 to 10 female students in our targeted Engineering Technologies course after only one semester. We're happy to say we did receive the NSF grant Increasing Women in Engineering and Industrial Technologies Programs and this will enable us to expand our success in increasing female participation through Industry Partnerships."
~Tony Bean, Director, Program Chair of Engineering Technologies, Rowan-Cabarrus Community College, Salisbury, North Carolina
"The Bootcamp got us thinking intentionally about who we were going to target for outreach, how we were going to target them, and how we would follow up to make
~ Michelle Levine, Interim District Director of Faculty Development, Broward College, Hispanic-Serving Institution (HSI), FL brought a team to a WomenTech Online Training Bootcamp in November 2015

sure we had actual results linked to the different programs and events that we were holding.
Within a year's time, we had increased female enrollment in our IT & CS Department from 149 to 226 female students and male enrollment had also increased from 751 to 1009 male students.
Since then, it has grown organically and blossomed into something that our college just does naturally."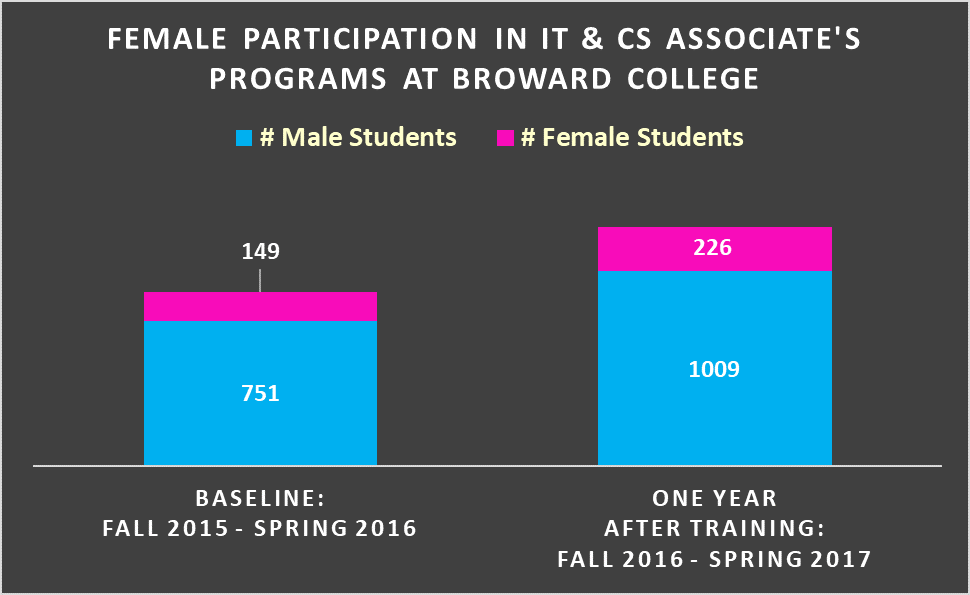 National Institute for Women in Trades, Technology & Sciences (IWITTS) Copyright 2023